Current Issues
November 20th 2016
Literature and Political Change in Indonesia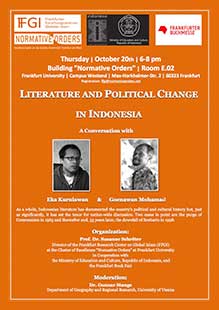 October 20th 2016, 6–8 p.m.
Room E.02
Building "Normative Ordnungen"
Max-Horkheimer-Straße 2
60323 Frankfurt am Main
A Conversation with Eka Kurniawan & Goenawan Mohamad
As a whole, Indonesian literature has documented the country's political and cultural history but, just as significantly, it has set the tenor for nation-wide discussion. Two cases in point are the purge of Communism in 1965 and thereafter and, 33 years later, the downfall of Soeharto in 1998.
You can download the poster of the discussion (pdf).
→ Registration: ffgi@normativeorders.net

June 7th 2016
New publication added: "The young wild ones of the ummah. Heroic gender constructs in jihadism" by Susanne Schröter
→ Publications
January 17th 2016
Translations of recent publications are available for download.
→ Publications
July 2nd 2015
New contributions by Susanne Schröter (pdf) and Sonia Zayed (pdf) against the backdrop of the recent incidents in Tunisia.
→ Publications
March 7th 2015
Frustrated Romance: Muslimas join the jihad as rebels, only to end up as prostitutes.
→ Publications
Frankfurter Forschungszentrum Globaler Islam
Frankfurt Research Center on Global Islam
Islamism and Islamic fundamentalism are on the rise both in Muslim-dominated states and the Muslim diaspora communities in Europe. This development has the potential to trigger considerable social and political conflict. At the same time, Muslim intellectuals and scholars all over the world are envisioning concepts of an interpretation of Islam that is compatible with democracy, human rights, women's and children's rights, as well as with humanist ideals.
The Frankfurter Forschungszentrum Globaler Islam (Frankfurt Research Center on Global Islam) is designed as a think tank that subjects these dynamics to scholarly analysis, and specifies their significance with regard to Germany. Combining regional and national perspectives with transnational and global approaches, the center is in a position to establish contexts and connections, and to advise both state and civil-society actors.